I hope you enjoy my mixes. Cheers Custard :)
If it's on Soundcloud listen away or download
If it's on Mixcloud a download link will be below the mixcloud widget.
How to download links:
PC: Right click on the link to download the MP3
Mac: Ctrl click on the link and 'Save as MP3' to your hard drive
Classic Hard House mixes
Strawberry Custard
Some of you may remember my now legendary Hard House and Trance Classics closing set in the Meltdown Room in Sept 2008 (Wow was it really that long ago!!!) This mix is almost an exact replica of that very set which tore the roof off of the party that night. I know quite a few of you have a copy of this already, but if you were there in 2008 or wish you were then download this mix.
Love, Custard :o)
For the next Planet Angel party info please go to http://www.planetangel.net/ and click on the angel logo.
Tracklisting and original quote

1. Tin Tin Out – Strings for Yasmin
2. Ratty – Sunrise (Here I Am) – Club Mix
3. Signum feat. Scott Mac – Coming on Strong – Hyperlogic Mix
4. Hyperlogic – Only Me – Tidyman Remix
5. Sash feat Tina Cousins – Mysterious Times – Tin Tin Out Mix
6. Lock'n Load – Blow Ya Mind – Club Caviar Remix
7. Signum – What ya Got For Me – JFK remix
8. Fergie and BK – Hoovers and Horns – Ingo Remix
9. Lisa Pin-Up – Future Acid House – Original mix
10. Camisra – Let Me Show You – Tall Paul Hard House Remix
11. Cortina – Music is Moving
12. Quadra – Back Again
13. Quadra – Technoport
14. N.R.G. – Alien Project
15. Gouryella – Tenshi – Original Mix
"Here's a mix based on my most recent set at Planet Angel. I was asked to play the last set of the night in September 2008 and decided to give everyone a taste of my early days of clubbing at Strawberry Sundae back in the mid to late 90's. In those days you had Hard House and Uplifting House (more recently known as Trance) all crammed together in one place. Add a little bit of Planet Angel spice with a twist of Psy Trance at the end and you get the perfect combination of my early influences, and Planet Angel at its best at 5am. I really hope you enjoy this mix as much as I did making it!


Strawberry Splash image © Karen Catto
www.momentsphotographyuk.com
---
House and techno mixes
Weekend in the Countryside - April 2010 - download

Here's a two and a half hour house/tech mix for you to download this should keep you all going for a while! Unfortunately I don't have a track list as this was mixed on the hoof with a load of my mate's tunes during an after party in the countryside, hence the name! Quite pleased considering I didn't have a clue how all the tunes went!!!!
The Ibiza Bar Sessions Vol.1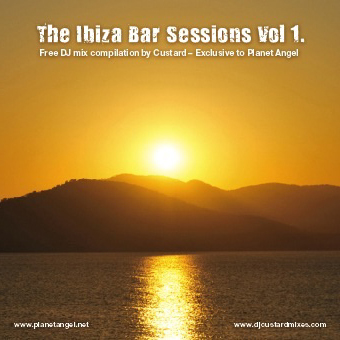 This is the uplifting/funky/progressive house mix I recorded that was given away exclusively at Planet Angel's New Years Eve 2010.

There were only 50 copies of the CD made, now here's the download for everyone to enjoy. This mix is a journey through the music I played in my first year as the resident DJ of the Ibiza Bar.

Love, Custard :o)
For the next Planet Angel party info please go to http://www.planetangel.net/ and click on the angel logo.
Tracklisting

1. My Digital Enemy – Amazon (Original Mix)
2. Glenn Morrison – No Sudden Moves
3. Dennis de Laat – Sound Of Violence (Filthy Rich Mix)
4. De Lacy – Hideaway (Cedric Gervais Vocal Remix)
5. Daniel Bovie Roy Rox – Love Me (feat. Nelson)
6. Niels van Gogh & Daniel Strauss – Monza (Lissat, Voltaxx Remix)
7. Rino Cabrera – Best Of Me (Original Club Mix)
8. Olav Basoski – Snapped (Original Mix)
9. Helvetic Nerds – Salto (Original DrumBeat Mix)
10. Libex & LRM – Liftered
11. David Penn & Rober Gaez – Deep Inside (Original Mix)
12. Perfect Stranger – Stardust (Felguk Remix)
13. Jim Tight – Bring The Noise
14. John Dahlbäck – Autumn (Extended Mix)
15. Adrian Lux – Teenage Crime (Axwell Remix)
---
Most of the imagery on this site is from iStockphoto unless otherwise stated. If you'd like to benefit from great photography at a very reasonable price you'll get 10 FREE credits if you click this link to sign up.